[vc_row animation=""][vc_column animation=""][vc_empty_space height="80px"][/vc_column][/vc_row][vc_row animation=""][vc_column animation="" offset="vc_col-lg-12″][vc_column_text animation=""]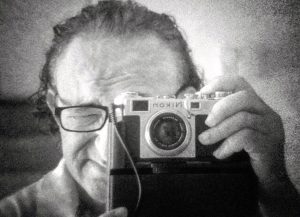 Years later, he began to make a collection of cameras that he had used during his life.
Dissatisfied with the "decadence" of analogs, some historical models began to gild 24k gold in Italy, trying to do something so that their days did not end up rusting.
In 2016 he questioned himself; "Why not digitize them without being invasive?" In the same year, he launched his first campaign a successful the first prototipe on Kickstarter that has been pledged by over 100 people throughout  – 
Afterwards he improved several times the design and relaunched it, and in a couple of years production and selling of the device "I'm Back®" started around the world.[/vc_column_text][vc_column_text animation=""]In 2018, I'm Back® with Samuel Mello Medeiros and together with his partner Filippo Nishino, incorporated the "I'm Back GmbH" company based in Lugano, Switzerland. They won the prestigious CINEMA 5D prize at photokina 2018 fair alongside Panasonic and Fujifilm and obtained second place in Switzerland as the Best Startup of the Year in the Boldbrain competition. They received as well "from the whole world" compliments of great photographers and the rest is history…
[/vc_column_text][vc_column_text animation=""]
---
[/vc_column_text][vc_video link="https://www.youtube.com/watch?v=H0EbLHmiubY&feature=youtu.be" align="center"][vc_column_text animation=""]
---
[/vc_column_text][silicon_gallery is_caption="enable" columns="5″ animation="flip-up" images="2193,1974,1972,1978,2007,1958,2310,2278,2488,2491,2995,2994,2998,2990,2988,2987,2986,2985,2984,2983,3018″][vc_column_text animation=""]
---
[/vc_column_text][silicon_gallery is_caption="enable" columns="5″ animation="flip-up" images="4601,4584,4555,4554,4546,4548,4549,4550,4552,4553″][vc_column_text animation=""]
---
[/vc_column_text][vc_column_text animation=""]
The story…
For some years I have been thinking of a way to save them from oblivion and four years ago I began to think about a possible way of giving them their lost dignity by plating them with 24K galvanic gold. – www.samellos.eu
And why not go back to using them? But it was not enough. So I started to think of a simple way to turn them into digital devices for an easy and immediate use.With this in mind, after destroying four digital cameras in my attempts,I decided that the easiest way would be to opt for an electronic open source and that there was no better solution than a Raspberry PI 3 (for its dimensions and power).
So I started this project and, after one year of hard work in search of a solution, I finally managed to solve the problem.
"I'm back"works with a great number of models and it has a Z X Y regulation which allows to adjust the F stop (24X36mm) which is placed behind the shutter.
The camera is linked to the device through a Flah Sync cable. To take a picture after adjusting the camera, all you need is to turn it on and choose one of the three picture options from the menu. Normal color, dim light color and black and white.
As regards the exposure, since the necessary amount of light is measured by the camera module, the camera must be set to B (Bulb) speed. After focusing the object, the shutter button must be pressed for 2 to 4 seconds according to the light. I am considering solving this problem and make the camera capable to auto adjust the exposure time, but now that's the way it works.
Now, in the current version, I use proprietary software and exclusive hardware, a 14mp panasonic sensor, touch screen, full menu, ISO control (100 to 1600), Burst (3 to 10 photos per second), Video, Video slow motion, EV , Color photos, black and white and sepia. Format JPG and RAW photos. Wi-Fi connection and therefore with the possibility to connect your smartphone and transfer the photos or use the display as live view. The I'm Back combines the best of both worlds, analog and digital.  You have full control of your camera. You can shoot now with your old analog as you always did and record the photos and videos digitally! With our new I'M BACK35® you decide the speed and aperture and you can use your machine's photometer to decide the exposition you want to have. Now it's up to you, you can even "make mistakes"as it used to happen in the past while using the manual mode. You also can choose the "automatic mode" simply by switching your camera to B mode and selecting the diaphragm aperture, this remains possible as in the previous model. Finally you must focus the objective and click, waiting the three beeps to shoot the photo.
Remember that you can always print all photos, we suggest you to try the normal A4 format, the quality is impressive good.
Finally, I'M BACK35® uses a focusing screen, the images therefore are vintage, smooth and are not comparable to a standard digital photocamera, so the result will "resemble" something between analog and digital, or UNIQUE!
Very important:
The photos taken by I'm Back presented here were treated with Picasa, because, as already happens with modern digital devices, tiny hair or dust can disturb the images. It is very important, before you take pictures, to make sure that the surface of the focusing screen which will record the image is clean. But bear in mind that you should always treat these photos as taken with a film camera and not with the latest generation of digital cameras!
*Raspberry Pi are registered trademark
[/vc_column_text][/vc_column][/vc_row][vc_row animation=""][vc_column animation=""][vc_empty_space height="80px"][/vc_column][/vc_row]